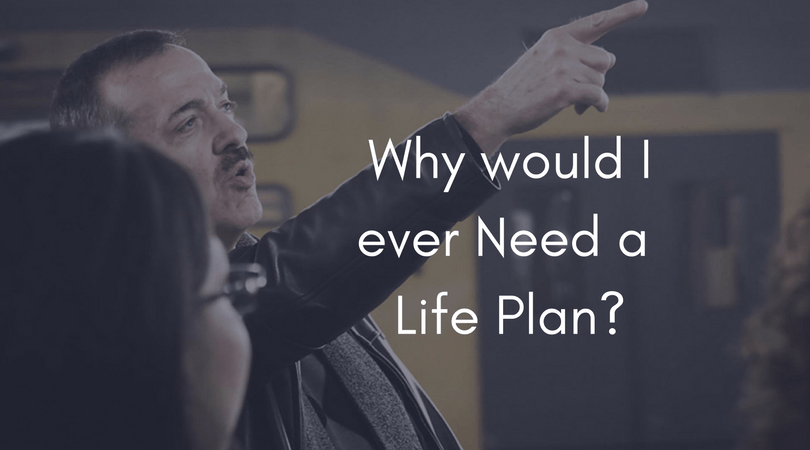 I remember asking myself, "Why would I ever need a Life Plan?" I had lived a pretty amazing life and done many things – author, scholar, consultant, trainer, international conference speaker, seasoned observer of culture, minister and earned a PhD.
I had lived in 4 countries, worked in over 70 more, served on various boards, spoke two languages fluently and could survive in a few others. At an age when many might consider taking up new hobbies in retirement, I was looking to recharge and reengage, not retire.
As a well-accomplished man in his mid-sixties, I possessed a reasonable self-awareness, a good understanding of my strengths and talents accompanied by a humble awareness of my weaknesses.
So what was wrong?
Why did I feel so stuck?
After 33 years serving as lead pastor of a large, multi-cultural, international church, I knew it was time to turn the wheel over to a new generation.
You can imagine the emotions of turning loose of a position you've held for 33 years.
Additionally, I was involved in so many worthy things that I was spread thin doing good things more or less well, instead of being focused on things strategic, that would fit my skill set and energize me rather than drain me.
I felt… paralyzed, confused and not a little bit frightened for the future. Truth be told, I'd been like this for several years.
I felt stuck because I was stuck. And I didn't know what to do.
It was this confusion that led me to a two-day experience called a LifePlan. Let me tell you a bit of my story and how Life Planning affected me in ways I could never have imagined.
More...
Every life is a story and every story is unique. And, I believe that every human life has purpose and meaning. But after writing a story of which I was quite proud. I was struggling to pivot.
During our succession process, our consultant suggested to the board that it would be appropriate to hire a life coach to walk me through this transition. The thought repulsed me.
I was working 80+ hours a week, on the edge of burnout and to think about carving out time to talk on the phone with someone who really didn't know me or understand my situation had zero appeal.
I didn't need someone to help me achieve my goals. I wasn't even sure anymore that I had the right goals! I sensed that I needed something more invasive – I didn't need a massage; I needed surgery. I needed something more holistic that would address all of my concerns in every area of life.
My life changed one day as I was venting my frustration to our succession consultant (also a dear friend). I casually mentioned that another friend, Josh Clark, had previously offered to take me through something called a Life Plan.
"Wait a minute!" said my consultant friend. "Is he a certified Paterson Life Plan facilitator?"
"I think so," was my rather weak reply.
"Do that!" he said emphatically as he looked straight into my eyes with a look that left no doubt.
So I did. The board gladly agreed to do this in lieu of a life coach. Just days later my wife and I were on a flight to California. I had no idea what to expect, but it wasn't long into the process that an in-depth perspective of my life began to yield clarity that days later I doubted could ever be possible.
Over the years I've done the obligatory personality profiles, been to the seminars and workshops on values, mission statements and the like. I found most of them interesting and even helpful. But this was different.
This was very different. This wasn't listing what I aspired to be and do; these values, this meaning, purpose and the way that God wired me just began to bubble up from within. I was discovering who I've been all along.
I learned this; I exist to equip leaders for maximum impact in a culturally complex world. That's it! This is what I've been doing all along. I had clarity. Now I could separate those things that did not directly contribute to this purpose.
The next few months would also be busy, and I still had a bunch of emotionally draining stuff to do. But now I had hope, specific direction, and an actionable plan to move forward. I had… clarity.
Since writing my plan, (Just six months ago) I have joined Pilot Fish as its International Life Plan Specialist. Not once in 60+ years had I given a single thought to becoming a certified LifePlanner. But after experiencing the power of my plan, it was a no-brainer.
In the last several months I've traveled to three continents to help leaders write their plan. For decades I have been working with leaders. For decades I have been working with leaders. Now, I have another tool for my toolbox, a process of self-discovery that brings leaders to great clarity of purpose and then organizes all their life – personal, professional, relational, and financial into structured harmony around that razor-sharp purpose in a dynamic plan with actionable steps.
Why would I ever need a Life Plan? The answer is simple. I needed a strong leader, with a strong process, to help me create a better future for myself and those I love and serve.
If you've built a successful life but find yourself feeling stuck, I'd love to do for you what Josh did for me. Sign up below for a free consultation. We'll schedule a chat.
​